World FIFA League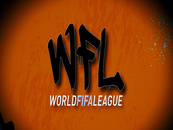 World FIFA League
World FIFA League
World FIFA League started in October 2015. Since then - we've grown into a well established, competative, 1v1, online, professional FIFA league.
We host continuous monthly divisions with promotion and relegation. Various knockout cups and also a few newer modes which include - FIFA Brand Wars, WFL Nations, WFL Pro 5s (Pro-Clubs) and Volta (FIFA 20).
If you're interested in joining the league... please get in touch!
STAFF:
Owner - Alex Murray
Web Design - Anthony Price
Graphics - Wayne McLaughlin
FB Live, FBW and WFL United - Yossef Elsawy
Online Journalist - Sam Geen
Twitter - Martin Sproule
Instagram - Adrian Sitko and Jack Edwards
Podcast Host - Kyle Woodhouse
WFL Pro 5s - Jesse Sanchez
WFL Nations - Stephen Ashworth
FUT - Jonathon McQuade
FFL OCM Manager - Marcus Mcallister
Follow the site to get the latest news and results straight to your email